High-profile Conference Centre utilising Q-SYS and Sennheiser equipment brings alternative income sources to the charity
19th June 2023, London, United Kingdom – Paignton Zoo is an education and conservation charity with over 2,000 different animals set in naturalistic indoor and outdoor exhibits, based in Devon. Their mission is to conserve species and their habitats, helping to save endangered animals in both the UK and across the globe, whilst inspiring everyone to help in the fight to protect wildlife.
Revenue is key to their conservation efforts, and so Paignton Zoo is constantly looking to diversify, create additional income streams and secure sponsorships. With this in mind, an opportunity was recognised to transform a multipurpose space that was being underutilised, into a high-profile conference centre, which could also be used internally to promote their educational activities and rented out to external parties for meetings and events.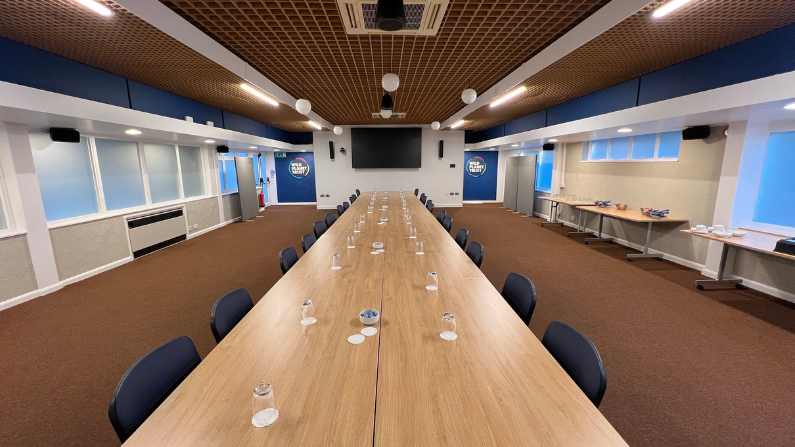 Paignton Zoo contacted audio visual integration experts, AV-Tec Ltd to assist with the project. There were a number of key requirements for the project, including the ability to control multiple room configurations while supporting Bring Your Own Device (BYOD) across multiple platforms, wireless microphones and remote support for the higher profile events.
David Folland, Head of Delivery Support, Wild Planet Trust added: "We had worked with AV-Tec before and approached Jarrett Dartnall to help us upgrade the space to a modern audio-visual facility.  We certainly gave a challenging brief.  We wanted a large screen conferencing facility that could also host meetings or training in a variety of room configurations. That would allow multiple hosting platforms such as Teams, Zoom, Google Meet etc and BYOD functionality, with suitable data security protocols retained. All this in a room with some interesting design challenges. "
Jarrett Dartnall, Owner of AV-Tec added: "We strive to find the perfect solution for our clients, taking into account the needs analysis, end user's ability, budget and of course the reliability.  The customer's key objectives were for a flexible and simple to use space. With my previous experience of Q-SYS and Sennheiser, I knew they would integrate seamlessly and provide the reliable solution they were looking for."
Jarrett Dartnall contacted AV distributor, Audiologic, for support and assistance at the design phase for equipment selection that would best meet the needs of the client having worked with Q-SYS and Audiologic before.
The selected equipment for this project included a Q-SYS Core Nano audio, video and control (AV&C) processor, Q-SYS TSC-70-G3 Touch Screen Controller, 2 Q-SYS NV-32-H software-configurable video endpoints, 2 Q-SYS NC PTZ conference cameras, QSC AD-S802T column surface-mount loudspeakers and QSC AD-P4T pendant loudspeakers, as well as Sennheiser SL MRC SpeechLine Multi-Channel Receivers, transmitters and microphones, and Ecler stereo amplifiers.
Due to the scale of this project, AV-Tec chose to outsource the programming and commissioning to Audiologic, adding: "It was a pleasure to work with Audiologic, such a friendly team that is focused on a more personal service, nothing was too much trouble and I am looking forward to the next project together." added Jarrett Dartnall.
Ben Spurgeon, Senior Technical Manager at Audiologic comments: "Paignton Zoo gave us a brilliant opportunity to re-purpose this previously unused space and turn it into something fit for modern purpose. Operating as a high end/flexible meeting space, the Zoo now has a room that is highly desirable and arguably one of the best in the region. The high standard of documentation and knowledge from AV-Tec made delivering the project alongside Jarrett a breeze, with a combination of on and off-site commissioning. We're incredibly happy to see the room being highly utilised and are looking forward to working further with AV-Tec."
David Folland adds "The end result is exactly what we asked for.  Av Tec and Audiologic have created a contemporary, versatile, simple to use audio-visual amenity, and its sleek design and installation has delivered the 'wow' factor too.  Our first meeting in the room was with our Board of Trustees, with presentations from external speakers and was a great opportunity to demonstrate the opportunities the investment will create. Since then, as well as internal meetings and training, it has been hired to external clients bringing additional revenue streams.  We even used it at Christmas, turning the screen into a 'window' looking out onto a winter wonderland as Mother Christmas told stories. "
Jarrett Dartnall concludes: "Our key objective is to always deliver a reliable system and have a happy confident client at the end of the installation. Working with Audiologic was a breeze, at the time stock was hard to get hold of and we needed a very quick turnaround.  Audiologic has supported us from start to finish and helped us deliver something amazing. We're all delighted to see how much the system is being used and have every confidence moving forward."
About Audiologic
Audiologic (http://www.audiologic.uk) has led the market in recent years providing innovative audiovisual services to enhance the visitor experience in public spaces and large venues. Founded in 2004, the Company is a highly respected UK-based solutions provider for world-leading manufacturers of audio equipment known for their high standards of performance, flexibility and reliability. Audiologic pays close attention to all innovations and developments within the industry in order to maintain its comprehensive knowledge base for superior technical support throughout – with the very highest standards of customer service an absolute priority.
For more information visit: http://www.audiologic.uk