Company Adds Support for Latest Products and a Variety of New Features to Wisycom App
AMSTERDAM, AUGUST 31, 2023 — Wisycom, a global leader in the design and build of sophisticated RF solutions, will showcase the latest version of its Wisycom App at IBC 2023 (Hall 8, Stand C51). Included among the enhancements is added support for some of the brand's latest products, such as the MTP61 bodypack transmitter. The app will now give users the ability to remotely change a channel or transmitter name, as well as monitor RF levels, battery life and audio levels.
"We look forward to presenting this updated version of the Wisycom App to IBC attendees," says Massimo Polo, CEO, Wisycom SRL. "With the added support of our latest products, the app provides users with the convenience of managing a greater range of Wisycom equipment directly from their mobile devices."
The updated app will include timecode (LTC) validity for both the MTP61 and MTP60 bodypack transmitters, along with remote formatting of Micro-SD cards. Added support for the portable RF-over-fiber BFLT1 transmitter and BFLR1 receiver, along with full control, monitoring and firmware updating capabilities for these devices will also now be included.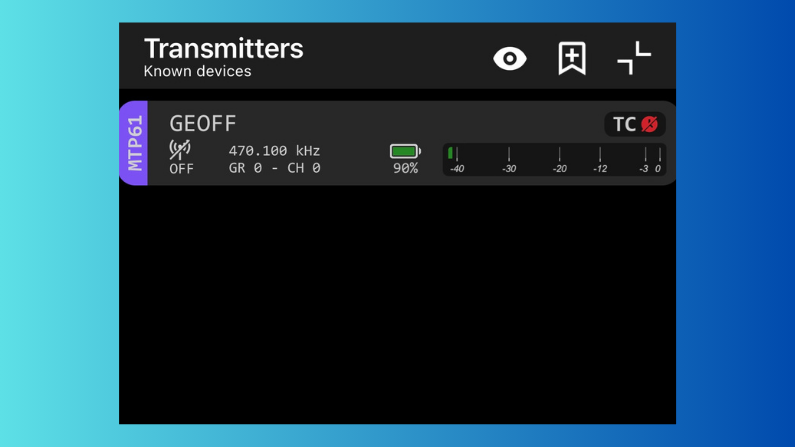 Available for iOS and Android devices on the Apple App Store and Google Play Store, the Wisycom App allows users to monitor, control and manage Wisycom devices through a Bluetooth 5 long-range connection. With the app, users can change frequency, audio levels, channel/group, TX/RX bandwidth, activate RF power, enable recording, bulk edit device operations, and much more.
Photo Captions:
Wisycom App Image – Wisycom BT App with condensed BFL interface display.
Wisycom App Screenshot (1) – Wisycom BT App with condensed MTP61 bodypack display.
Wisycom App Screenshot (2) – Wisycom BT App with expanded MTP61 bodypack display.
About Wisycom
Founded in 1997, Wisycom is a worldwide leader in designing and building the most sophisticated RF solutions for broadcast, film and live production, renowned for their durability, flexibility, reliability, practicality and cost-effective price points. Wisycom's design process is driven by attention to detail, customer feedback and ultimate quality, from the selection of components to the manufacturing process, which takes place at the company's Italian plants. The company prides itself on serving as a technical advisor and partner to every customer. From custom design to evaluation and dimensioning of systems, the Wisycom team stands by its customers through every step of the process. For more information, please visit www.wisycom.com.