Southern California, USA; October 2023 – Professional mix engineer, guitarist and producer, Mike Butler has a sparkling career and a golden list of credits to his name. So when he decided to upgrade his home studio earlier this year, he had very specific requirements. He also had a theory: "I've been saying to people for years: you don't need expensive gear or specially built facilities to make a great record." It was time for him to put this to the test.
His credits are phenomenal. They include The Rolling Stones, Fleetwood Mac, The Doobie Brothers, The Pretenders, Eminem, Phoebe Bridgers and Ray LaMontagne amongst many others. He's recently mixed the music for the hit HBO animated series 'Batwheels'. As a result, he's been in many large, multi-million dollar studio facilities with multiple rooms and high calibre acoustic design; he's also worked with large format analogue mixing consoles and an array of incredible vintage outboard gear.
So of course Mike had high expectations of his kit. He has always had a small setup at home suitable for mixing and simple overdubs, but his longer term goal was to cultivate the space to be able to record a full band live. This year an opportunity arose to produce an album with English artist, Elaine Palmer and he was galvanised into action.
He details the huge task that faced him. "I wanted to record at least Elaine and the drummer and bassist together. Elaine would be playing guitar and singing, so that means drums, bass, guitar and a vocal simultaneously." Which requires multiple channels. A small, well-loved UA dual channel interface already sat at the heart of his setup, but he confessed to its limitations as a tracking solution. "It only has two built- in mic pre's, and the only way to expand it is via a single ADAT input."
For a while, he was stumped. "Having enough inputs and mic preamps was the biggest and seemingly most expensive hurdle to figure out," he says. "My saviour came with the release of a brand new line of recording gear by a smaller, but well trusted and reputable company, Audient." He is talking about EVO: a range of simple, innovative products designed to make recording easy for creatives.
Mike initially saw the EVO audio interfaces as simply a "no frills, budget friendly option." After a little more research however, he discovered that the flagship EVO 16 is a full recording interface with eight internal mic preamps, a monitor section with two independent headphone outputs and it's expandable via ADAT to 24 channels. "The kicker is that it does all this for around $550 USD!" exclaims Mike, who could hardly believe that this was possible.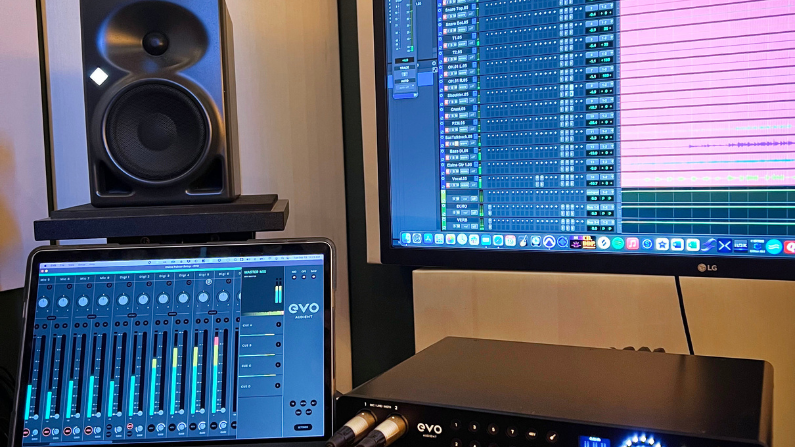 After further trips down YouTube rabbit holes, his interest was fully piqued. "I started realising that they were keeping costs down in some pretty ingenious ways, by omitting a few features that a lot of similar interfaces have. But as it turns out, mostly features I didn't particularly need."
He continues, "It's as simple as it gets. It has combination jacks for inputs that accept 1/4" TRS or XLR connectors. It doesn't have external phase switches, high pass filters, pads or any other bells and whistles you might typically find on multi-channel mic pre/interface. They use a single switch to select phantom power per channel instead of having them on each track. It doesn't even come with rack ears (though you can buy them cheaply). The whole thing is designed to be as streamlined as possible with as few external knobs or buttons as they can get away with. It is actually a great idea. By eliminating the costs of adding all the extra doodads, they could spend the money on the things that matter most: preamps and converters."
He was sold, purchasing the EVO 16 which forms the hub of his now multi-channel home studio. "But eight channels wasn't going to be enough to get me there, and wouldn't you know it, they'd thought of that too." Adding EVO SP8, the stand alone 8-channel mic pre to his setup means Mike now has a full 16 channel recording studio. "Same mic pre's, same layout – all for just over $1000. And, if I find that isn't enough (it is), I can add another SP8 down the road for a full 24 channels.
"I am truly blown away by this setup, especially for the price," he says of the EVO Expanded System: EVO 16 and SP8 together. "When you factor the cost per channel for an all-in-one solution, you'd be hard pressed to find any cheaper option, and as I found out, especially one that sounds as good.
"The mic pre's sound great, have enough gain and clean headroom, and are very quiet. They don't give you any 'vibe' per se. They are clean and sound like the source they are recording. They aren't going to bring any colouration to the table, but honestly, the magic should come from the source, not your preamps.
"I sometimes missed having a high pass filter on the pre's,"  he says, admitting to having had to compromise occasionally. "There are loads of options post recording to deal with any rumble though, and realistically I may only have used them on one or two sources. Most of the time, I don't use them anyway. Thankfully, the software that comes with the EVO Expanded System does give you a phase button for each track, which is pretty important to me."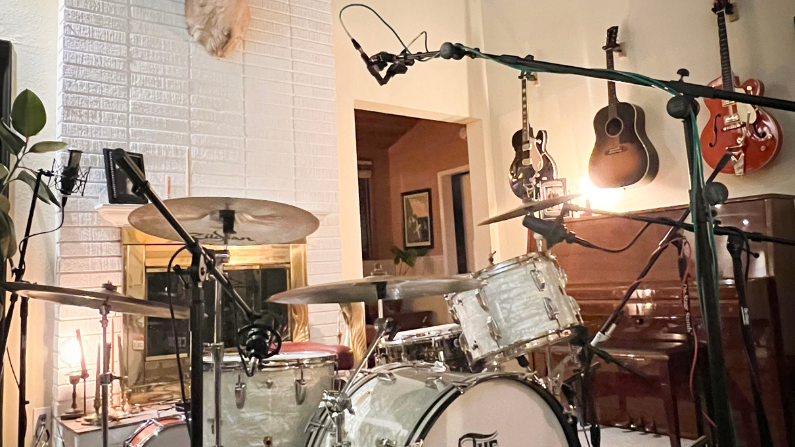 Overall Mike is very happy with the outcome. As for his theory…it's probably not too much of a surprise to reveal that he doesn't need expensive equipment to make great music. "The overall sound quality of the record has far exceeded my expectations. I will without a doubt be making many more records this way in the future."
He concludes, "I'm absolutely thrilled with how it all went. Not only with the album we made, but with the experience as a whole." To read about it in much more detail, Mike has a Substack blog which documents his whole journey to date – including all the trials and tribulations.
Click here to read his extended write up about EVO, and here for the next instalment of his home studio diaries, this one detailing how he set up headphones and talkback using EVO.