Brand's Newly Available All-in-one Solution Will be on Display at NAB New York 2023
New York, OCTOBER 11, 2023 — Pliant Technologies, a leading provider of professional wireless intercom solutions, announces its MicroCom 900XR "All-In-One" Wireless Headset [PMC-HS900XR], the latest addition to the MicroCom family of products, is now shipping throughout North America, Latin America and to Oceania customers. The latest solution combines the great sound quality, excellent range, and budget-friendly price point of MicroCom XR with the comfortable fit, exceptional noise isolation, and flip-up microphone muting technology of the SmartBoom PRO headset, but without the wire. In addition to its immediate availability, the company will also be highlighting the solution at NAB New York 2023 (Booth 1144), along with CrewCom's new IP-rated Radio Transceiver.
"We look forward to showcasing these new production level solutions at NAB New York," says Gary Rosen, Vice President of Global Sales for Pliant Technologies. "The addition of the MicroCom 900XR Wireless All-In-One Headset to our MicroCom line is the perfect solution for users looking for quality communications, at an affordable price."
The new MicroCom 900XR Wireless Headset exhibits the same proven performance and functionality as the MicroCom 900XR beltpack but is engineered to fit inside the SmartBoom PRO headset ear cup. Its unique all-in-one design features an easy-to-read OLED display, two intercom channels with a dual listen option, and support for up to 10 full-duplex users including unlimited listen-only and shared users.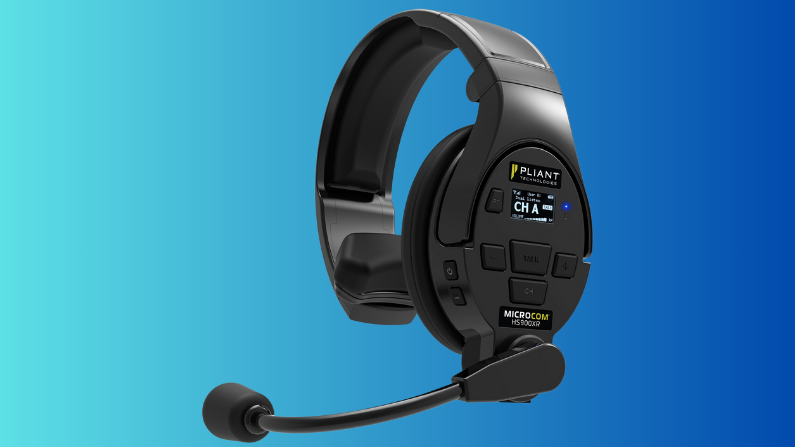 The MicroCom 900XR Wireless Headset is available in single- and dual-ear configurations featuring an internal antenna and field swappable batteries with considerable run time (14 hours on the dual-ear headset and seven hours on the single-ear headset). Its lightweight and adjustable design allows for comfortable all-day wear and the headsets collapse for easy storage and travel when the production or project is complete.
Also available with the new MicroCom XR Wireless headset is the industry's first Drop-in-Charger [PBT-HSXRC-66] for an all-in-one style headset. Up to six individual headsets (single or dual) can be put on the charger without having to remove their battery or plug in a USB charging cord to the headset itself. Users can also drop in up to six additional batteries (sold separately) for simultaneous wireless headset and spare battery charging capabilities.
Pliant will also feature its new CrewCom IP-rated Radio Transceivers (RTs) at the show, which are ideal for any installation or live event where outdoor placement of transceivers for wireless coverage is required. Available in 4 models; 900MHz for North America, 900MHz for Oceania and Latin America, 2.4GHz for CE countries and 2.4GHz for all other areas, the new line of highly weather resistant IP-rated RTs provides wireless intercom coverage where needed, without any concern regarding weather related issues.
The newly designed RT features a sleek, yet durable ABS plastic housing along with silicone-molded connector covers to ensure moisture ingress protection for unused connections. In addition, an updated power connector (for use with the optional PPS-48V-02 Power Supply) has also been added to allow for a push/pull quick-release connection and disconnection while still maintaining its IP rating. The IP-rated RT supports seamless roaming and can be software selected for either six Normal mode users or 32 High Density users and is 100 percent compatible with all CrewCom systems and existing transceivers.
More information about Pliant Technologies is available at www.plianttechnologies.com.
 About Pliant Technologies
Pliant is a leading provider of professional wireless intercom solutions ranging from simple out-of-the-box configurations to large-scale designs for industries such as broadcast, live sound, theatre, and many more. As the professional division of CoachComm, Pliant is part of an extensive company history of providing intercom solutions to sports and professional markets and consists of a team of industry professionals dedicated to the company's tradition of innovation and commitment to second-to-none . Developing communication technologies that are dependable, durable, and easy-to-use has made Pliant a worldwide leader in critical communication solutions.