Halifax, UNITED KINGDOM – September 2023 – The Piece Hall, Yorkshire's most significant secular building, and the world's only remaining Georgian cloth hall, has stood as a symbol of the region's rich history since its construction in 1779. As a hub for trading 'pieces' of woven woollen fabric, this architectural marvel has seamlessly blended commerce and culture from its inception. Today, it continues to inspire and engage, hosting an array of site-specific performances, and contemporary music concerts as part of their 'Live at The Piece Hall' summer season of gigs, featuring top-tier artists such as The Lumineers, Limp
Bizkit, UB40 ft. Ali Campbell, The Charlatans, and Johnny Marr.
With its unique layout and 5,500-person capacity, The Piece Hall presents unique acoustic challenges, including a stage that is positioned in the corner, an open courtyard and VIP balconies. The PA system had to deliver high-quality sound to an audience standing in compact spaces, while minimising spill behind the stage.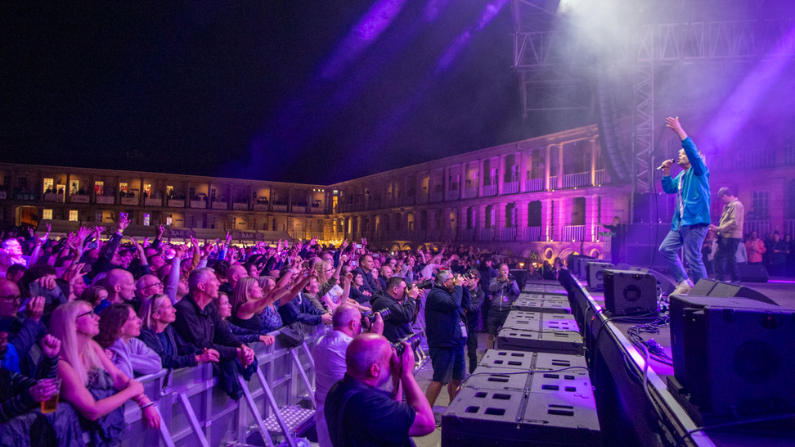 Hull-based L-Acoustic Certified Partner, HPSS Ltd., shares a longstanding relationship with The Piece Hall team, built on a mutual commitment to creating high-quality sound experiences. HPSS have been working with The Piece Hall since 2017, as the 'Live at The Piece Hall' events have grown in both popularity and ambition.
Tasked with designing a sound system for the 'Live at The Piece Hall' series, HPSS worked to the venue's brief that included a noise containment objective, since The Piece Hall is located in a town centre. "For the 2023 events, there was a requirement for a sound system capable of delivering premium audio throughout the entire audience, whilst respecting the local surroundings," explains Hugh Jones, Managing Director and Sound Engineer at HPSS. "To deliver on this brief, the L-Acoustics K2 Series was the obvious choice, not only to enhance the sound quality, but also to provide comprehensive coverage and a system that would inspire confidence in visiting sound engineers." HPSS Project Manager and Sound Engineer, Iain Firth, turned to Soundvision, L-Acoustics' 3D audio modelling software, to design a system that would fulfil the audio quality requirements while keeping noise spill to nearby neighbours at a minimum. "We use a combination of L-Acoustics K2 for the main hangs and Kara II for the side arrays with A series enclosures as front-fill", Firth explains.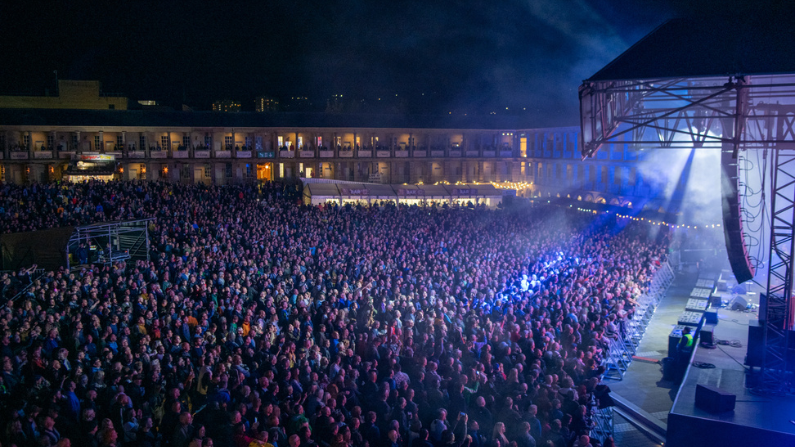 The typical configuration for the summer concert series, overseen by lead System Tech Mark Hughes, consists of a left/right array of 12 L-Acoustics K2 per side, accompanied by 18 units of KS28 subwoofers to extend low frequency for this large system's format. Four centre-flown L-Acoustics Kara II serves the front rows of the audience as the front fills are, for sight line reasons, lower than usual. Out-fill is provided by an additional 6 Kara II per side while five A10 Focus and two A15 Focus are spaced evenly across the front of the stage for lip-fill. Musicians onstage benefit from a monitor system consisting of 12 X15 HiQ as well as two-KS21 compact subwoofers. Four ARCS on top of two SB28 per side provide side-fill. The entire system is powered by 19 LA12X and four LA4X amplified controllers.
"Our goal is to present the artists in the best possible light," continues Jones. "L-Acoustics instils confidence, both for its superior sound quality, and also for its user-friendliness. We have quite a tight window to run the sound check, starting at 4:00pm for the headliner and a couple of support bands, and the show must start promptly at 6:00 pm. Therefore, it's essential to have a reliable sound system that engineers can trust to produce exceptional sound, in a limited time frame. Moreover, when artists bring their own engineers, it's important that they feel comfortable with the system. L-Acoustics delivers on all these
fronts."
Martin Clarke, Production Manager at The Piece Hall concludes: "At this year's 'Live at The Piece Hall' summer gigs, we wanted to continue building on our reputation for a quality sound experience for artists and visiting engineers. We've continued our relationship with HPSS who have delivered a design that met our values and goals. The feedback from engineers, artists, audiences and our neighbours has been excellent. This is testament to an excellent product and first-class design."
About L-Acoustics
L-Acoustics is renowned for developing innovative sound systems and technologies that elevate the listening experience. Founded in France in 1984, L-Acoustics currently employs 500 team members worldwide, with headquarters in Paris, London, Los Angeles, and Singapore. Recognized for pioneering the line source array, L-Acoustics continues to shape the future of sound with solutions such as L-ISA Immersive Hyperreal Sound technology offering multi-dimensional audio. In recognition of introducing ground-breaking creative technologies, L-Acoustics was named one of Fast Company's Most Innovative Companies of 2020 and 2023.
L-Acoustics sound systems can be heard around the globe in venues like the Hollywood Bowl and the Philharmonie de Paris, at the world's top-grossing festivals such as Coachella and Tomorrowland, and on tour with world-class artists such as Billie Eilish, Post Malone, Foo Fighters, and Jacky Cheung.