Mörbisch am See, AUSTRIA – August 2023 – Situated amid Austria's picturesque wine country, the Mörbisch Lake Festival is a cherished celebration of culture and performing arts. The location has been an iconic part of this region for nearly 20 years and each year draws thousands to its breathtaking setting, where tradition and innovation harmoniously blend. The festival's centrepiece is a floating stage – an engineering marvel that appears to levitate above the tranquil waters of Lake Neusiedl. This stage, a platform for countless memorable performances, is integral to the festival experience. As dusk falls, and lights shimmer on the water, the stage morphs into an enchanting spectacle that captivates all who witness it. This year, the mesmerising ambiance of Mörbisch has been elevated further through an exciting collaboration with L-Acoustics.
Over the past twenty years, this venue has evolved from a simple site, into a vibrant centre for performing arts. Transitioning from opera to musicals, it now hosts productions such as this year's "Mamma Mia!" and boasts a capacity of 6200 people. In response to the escalating demands of an expanding venue and increasingly ambitious productions, the Mörbisch Lake Theatre had identified a pressing need for a high-quality sound system, tailored to fit the unique layout of the stage.
In each year gone by, a new stage and audio design had been brought in to align with the festival's changing themes. However, after conducting numerous demonstrations to perfect the setup, the decision was made in September 2022 to use the L-Acoustics A15 as the permanent sound system, due to its compact design and unmatched 110-degree audience coverage. L-Acoustics stood out as the only brand that successfully encompassed the entire audience area.
Subsequent demonstrations were conducted to refine the setup, ultimately solidifying the decision to go with the A15 system. This versatile, lightweight system with configurable directivity is designed to scale according to the needs of upcoming musical events and the venue's unique structure. It's especially effective when covering a wide audience area, ensuring high-quality sound remains consistent across the plateau.
Five hangs of three A15 speakers were deployed to achieve complete spatialisation across the entire plateau. Four centrally flown KS21 subwoofers were added to enhance the lower end of the audio spectrum.
With a significant 25-metre gap between the edge of the stage and the audience's front row, and an additional 60 metres of audience area to span, sound spillage is effectively minimised. The L-Acoustics A15 emerged as the optimal choice to retain high frequencies.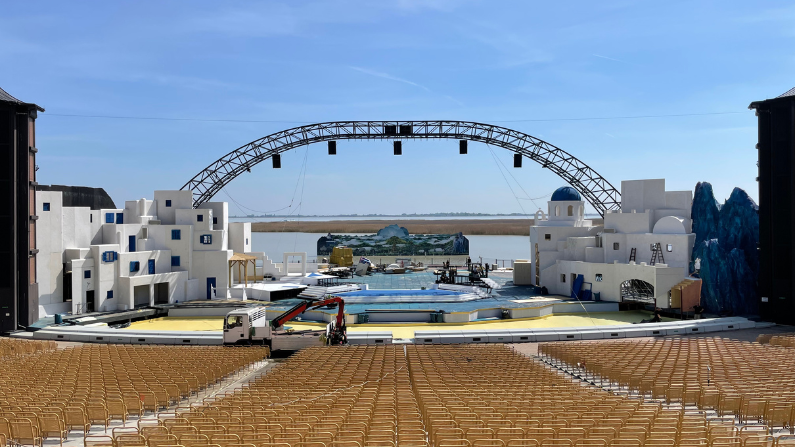 The A Series was the sound engineers' speaker of choice due to its constant curvature, which was perfectly suited for the unique characteristics of the stage. This design allowed them to adjust directivity between 110° and 70°, offering greater flexibility to direct sound precisely where required while minimising noise spillage.
"The A Series system was the perfect match for this project – providing a full range of audio from a compact set of speakers. Its size was a key factor, given our stage's truss constructions are also used for set designs, meaning large speakers were not an option. One of our biggest surprises was how well the A series handled the wind, as it typically blows from the water towards the audience. This can cause problems for line array systems, particularly with higher frequencies being blown away. However, the A Series system successfully managed these conditions, ensuring a consistent and high-quality audio experience for all attendees" comments Raphael Rupprecht, Technical Sales Manager and ACC at Signal.
As the venue gears up to continue its series of shows, the feedback has already been overwhelmingly positive. Both Thomas Hofstädter and the Technical Director of Sound are extremely pleased with the new sound system. "It's a vast improvement over previous years and we're excited for our audience to experience it," concludes Rupprecht.
About L-Acoustics
L-Acoustics is renowned for developing innovative sound systems and technologies that elevate the listening experience. Founded in France in 1984, L-Acoustics currently employs 500 team members worldwide, with headquarters in Paris, London, Los Angeles, and Singapore. Recognized for pioneering the line source array, L-Acoustics continues to shape the future of sound with solutions such as L-ISA Immersive Hyperreal Sound technology offering multi-dimensional audio. In recognition of introducing ground-breaking creative technologies, L-Acoustics was named one of Fast Company's Most Innovative Companies of 2020 and 2023.
L-Acoustics sound systems can be heard around the globe in venues like the Hollywood Bowl and the Philharmonie de Paris, at the world's top-grossing festivals such as Coachella and Tomorrowland, and on tour with world-class artists such as Billie Eilish, Post Malone, Foo Fighters, and Jacky Cheung.