Winter clothing brand collaborates with Marquee AV and Audiologic to create a subtle ambience to enhance shopping experience
18th September 2023, London, United Kingdom – Luxury Icelandic winter clothing brand 66°North, has unveiled its UK flagship store incorporating a unique immersive sound experience. Teaming up with audiovisual experts Marquee AV, and leading distributor Audiologic, 66°North have successfully recreated the atmospheric soundscapes of its Reykjavik store for UK shoppers.
66°North, a brand with a rich heritage dating back to 1926, originally established itself as a manufacturer of protective outerwear for fishermen and those braving the harsh elements of the North Atlantic. Today, the brand continues to make functional clothing without compromising on comfort, for a range of activities.
The Regent Street store, located in the heart of London, represents 66°North's first venture outside of Iceland and Denmark, making it a significant milestone for the brand.
Leading professional audio brand Genelec got in touch with their UK distributor Audiologic after 66°North was delighted with the Genelec audio solution in their Reykjavik store, and wanted a similar solution for their flagship London store. Having worked closely with Marquee AV on a number of projects, Paul Simpson, Business Manager at Audiologic, introduced them to 66°North.
Mark Brown, Managing Director at Marquee AV, described the collaborative process: "It was fantastic to meet with the Icelandic installation team virtually, where we went through drawings and speaker placements, so we got a real feel for the client's requirements. The brief was clear – a discreet, high-quality solution with individually controllable speakers to provide excellent coverage throughout the store. We then worked alongside the UK designers and contractors from the beginning to discuss how best to facilitate this."
Consulting with Audiologic, the chosen audio solution consisted of 15 Genelec 4020C compact installation speakers and 3 Genelec 7040APM Active Subwoofers.  The Genelec 4020C speakers, known for their precision and compact design, were selected to meet the spatial constraints and design aesthetics of the store. Unveiling immense performance within a compact framework, the 4020C sets a new standard for subtlety and unwavering reliability—a prerequisite in the retail and hospitality sectors.
Paul Simpson emphasised the advantages of Genelec's revolutionary active design: "The Genelec 4000 series removes the need for cumbersome external power amplifiers. By housing amplifiers, crossover filters, and protective circuitry within the speaker cabinet, this design optimises both electronics and drivers while reducing reliance on extensive racks of external amplification and intricate cabling — an imperative in dynamic public spaces like retail stores."
In addition to their technical prowess, the 4020C speakers, which are available in 120 RAL colours, were chosen for their adaptability to acoustically challenging environments, aided by rear panel room compensation switches that ensure pristine and intelligible audio regardless of playback levels.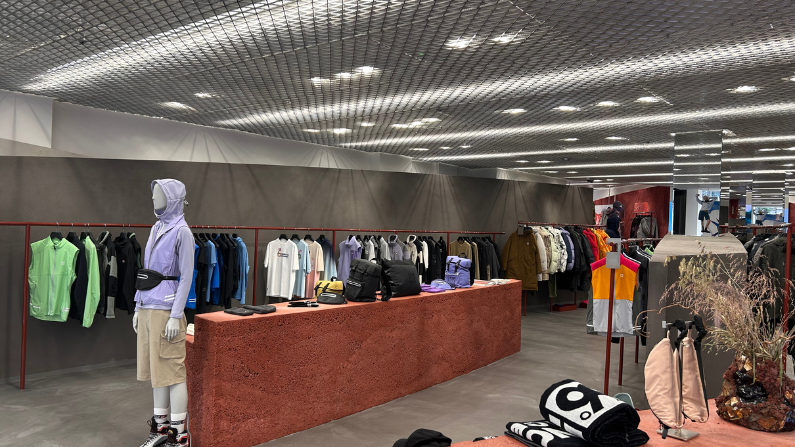 The creative approach to speaker placement involved concealing the colour-matched speakers behind the metal-fenced ceiling, blending seamlessly with the store's design aesthetics. Mark Brown noted that this unique placement allowed for consistent sound coverage throughout the venue, eliminating "sweet spots" and delivering an immersive experience.
Mark Brown concluded: "The Genelec speakers have exceeded expectations, showcasing their technical excellence and versatility, the controlled directivity allows installation in many types of acoustic environments, providing outstanding sound coverage. We value our longstanding relationship with Audiologic and appreciate the introduction to this exciting project by Paul, which has allowed us to provide our expertise directly to the client."
The Genelec audio solution has elevated the 66°North shopping experience, with discreet yet powerful speakers delivering an immersive sound experience to customers. It represents a testament to Genelec's commitment to excellence and innovation in audio technology.
About Audiologic
Audiologic (http://www.audiologic.uk) has led the market in recent years providing innovative audiovisual services to enhance the visitor experience in public spaces and large venues. Founded in 2004, the Company is a highly respected UK-based solutions provider for world-leading manufacturers of audio equipment known for their high standards of performance, flexibility and reliability. Audiologic pays close attention to all innovations and developments within the industry in order to maintain its comprehensive knowledge base for superior technical support throughout – with the very highest standards of customer service an absolute priority. For more information visit: http://www.audiologic.uk
About Marquee AV
Marquee AV delivers audio visual solutions across the hospitality, entertainment and leisure markets. Also part of the Marquee family, Marquee Home and Marquee One within the Marquee group, also provides lifestyle technology to luxury homes and audio visual solutions and services to the corporate, educational and hospitality. We never stop exploring the possibilities of audiovisual technology, finding creative ways to deliver memorable experiences for our clients.