Brand's Discreet Vocal, Instrument and Headset Solutions Provide Authentic Sound for Houses of Worship Across the U.S.
LONGMONT, COLORADO, OCTOBER 24, 2023 ― DPA Microphones has long been entrusted by houses of worship across the country to project the worship band performances and motivational sermons that captivate parishes. Offering unmatched versatility, quality and durability, DPA's instrument, vocal and headset microphones are ideal for multiple applications at churches of any size. This can be seen throughout the U.S., from the east coast's Our Lady of the Rosary and Elevation Church to Mount Angel Abbey and Seminary and Bethel Church on the Pacific coast.
Aiming to improve the quality of spoken word sermons, South Carolina's Our Lady of the Rosary Catholic Church turned to Devin Sheets, Lead Engineer for audio installation company Alpha Sound. For Sheets, a key component of upgrading the sonic quality for any church is introducing solutions from DPA Microphones. In the case of Our Lady of the Rosary, this meant selecting the brand's 4018 Supercardioid Gooseneck microphone, and two each of the 4011 Cardioid Condenser and 4060 Miniature Omnidirectional microphones.
"This church has been blessed with very high-quality liturgical elements," Sheets shares. "The sleek and sophisticated nature of these microphones match the aesthetic of the space very well. The 4018 provides the utmost natural sound at the ambo and for the priest's chair, where we created a custom wireless mic stand setup. The 4011 mics also amplify the choir and cantors beautifully. The 4060 mics are hidden on the rear wall for added ambience in the narthex and sacristy. The space now has fully intelligible spoken word in every seat."
Elevation Church faced a similar issue with vocal clarity, as well as gain before feedback within the room and near the wedges. The North Carolina house of worship called on Audio Director Justin Whisnant, who tackled the challenge with multiple DPA solutions. For broadcast events, the church Pastor utilizes wireless d:facto™ vocal capsules, along with a 6066 Subminiature Headset Microphone. A 2011C Compact Cardioid and 4055 Kick Drum Mics are trusted for recording projects, both live and in the studio, while a 4017B Shotgun serves as a crowd mic and the new 2012 Compact Cardioid and 2015 Compact Wide Cardioid Mics amplify the church's B3 organ. The brand's esteemed 4099 Instrument Mics can be found on horns and strings, especially during Easter and Christmas services.
"DPA microphones are just so easy to work with," says Whisnant. "They give us the clarity and response we are looking for—whether we are recording, doing live mixes or streaming online. The d:facto and 6066 have been great mics for our Pastor. We are able to get his handheld loud and stable in the wedges without a lot of work. His headset has also allowed us to keep his mic loud enough in front of the PA without any feedback. Then, for our pop-up church setup, the 4099s and 4055 make it possible to get a great mix quickly and easily."
On the west coast, Alpha Sound also oversaw the install at the beautiful Mount Angel Abbey and Seminary, which was looking for an audio upgrade: not only sonically, but aesthetically. As a dedicated DPA fan, Sheets knew the brand would be a perfect fit for this Oregon church. Turning to two standard and three custom 4018 Supercardioid Goosenecks, four 2011Cs and two 6060 Subminiature Lavalier microphones, Sheets delivered authentically clear audio from these discreet and unobtrusive solutions that melted into the architecture of the venue.
"Five times a day, every day, monks gather in the church for various functions," explains Sheets. "There is no audio engineer or large mixing console, so the DPAs help provide a balanced sound in the venue and for the live stream. The goosenecks ensure the warmest, most natural sound possible for speech and singing at the ambo and lectern. In the triforium, the 2011Cs act as adjacent pairs of choir microphones, while the 6060s nearly disappear from view as they pick up the sound of the rear organ."
In California, Bethel Church Audio Director Jonah Thompson noticed significant and consistent stage noise bleed with the team's previous vocal mics. After finding it difficult to cut back on the noise without sacrificing the vocal quality, Thompson knew an upgrade was necessary. Now outfitted with DPA d:facto vocal mics, church visitors experience clear and natural vocal performances both at the venue as well as during the events, tours and live album recordings put on by Bethel's music collective, Bethel Music.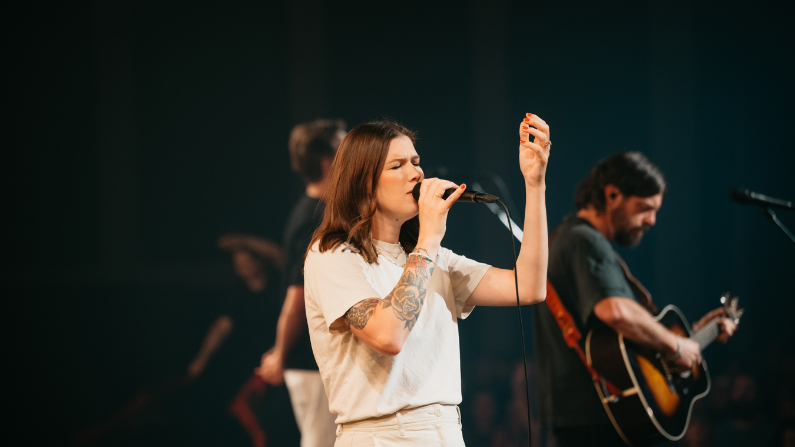 "These mics are ideal for us, especially for live recordings," Thompson says. "They sound the same live as they do for overdubs. It is now a seamless transition for us; some of the microphones we used in the past struggled with that and required a lot of extra work to match up the sound. There has also been no quality loss switching to these handhelds―house engineers ask about them, and other worship leaders come to Bethel and ask how our vocals are so clean and intelligent."
ABOUT DPA MICROPHONES:
DPA Microphones is the leading Danish Professional Audio manufacturer of high-quality condenser microphone solutions for professional applications. DPA's ultimate goal is to always provide its customers with the absolute finest possible microphone solutions for all its markets, which include live sound, film, installation, recording, worship, theatre, broadcast, and more. The company does not compromise on its manufacturing, which is done within very tight tolerances and strict testing at the DPA factory in Denmark. As a result, DPA's products are globally praised for their exceptional clarity and transparency; unparalleled specifications; supreme durability and reliability; and, above all, pure, uncolored and undistorted sound. For more information, please visit www.dpamicrophones.com.